01 Jan
PS Charities' OCC Raffle Chopper to be Displayed at Hardcore Choppers' Sterling Facility, Raising Funds for Triple-Amputee MSgt Eden Pearl
As part of Professionals Supporting Charities' 'Building a House, Helping a Hero' project, a custom-built OCC Chopper will be raffled off to aid in a disability-friendly housing project for the wounded veteran. Eden is said to be the most wounded man ever to survive in the history of the US Military.
Sterling, VA (PRWEB) February 08, 2012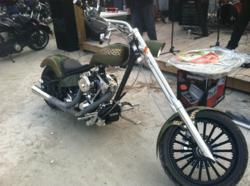 Hardcore Choppers is always eager to support our troops, and in collaboration with Professionals Supporting Charities (PS Charities) are proud to announce that the Sterling, VA custom chopper manufacturing facility will be displaying a unique custom chopper to be raffled off in support of a wounded soldier.
On the morning of August 16, 2009; while on his fourth combat tour, conducting operations in the Herat Province of Afghanistan, Eden's vehicle was struck by an Improvised Explosive Device (IED). He was thrown nearly 30' from the vehicle and his body became engulfed in flames. Eden suffered a traumatic brain injury and 3rd degree burns on over 90% of his body.
As a result of his injuries, Eden had both of his legs and one of his arms amputated. Some doctors and surgeons have said that Eden is the most wounded man ever to survive in the history of the United States Military.
In the wake of his injuries, Eden is now faced with a difficult road to recovery. After two years of hospital treatment, Eden, his wife, and their six year old daughter hope to settle down after years of moving in and out of apartments while seeking the required medical expertise that his injuries called for.
PS Charities realizes the unique circumstances that come along with Eden's injuries, and has launched a fund-raising project to help build the family a disability-friendly home to accommodate these special needs – a home which would allow the family to return to life outside the walls of countless hospitals and physical therapy centers.
Hardcore Choppers is excited about this joint-effort with PS Charities, and looks forward to assisting in similar projects moving forward.
To view the raffle chopper in person, stop by our facility in Sterling, VA this May. Click here for directions.
For more information on purchasing raffle tickets, visit the PS Charities 'Build a House' project website
Hardcore Choppers has been building custom motorcycles since 1996, and has become one of the industry's premier custom chopper manufacturers. Their Northern Virginia facility builds motorcycles from the frame-up, tailoring to customers which span around the world from, Dubai to the UK. With models starting at $19,995, Hardcore Choppers has placed themselves in a competitive market position by offering choppers with a wide range of price points.